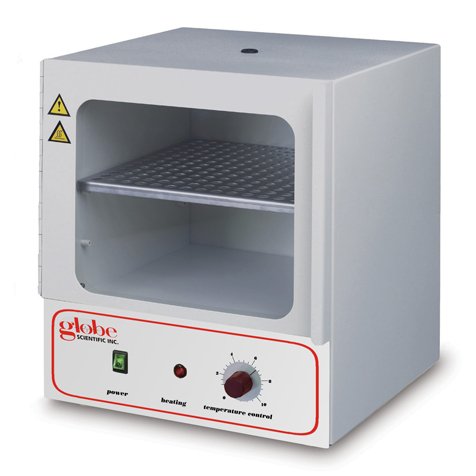 Product Overview
Fabricated on fully automatic CNC machines.
The inner working chamber is water & vapour tight,
High-grade stainless steel.
Arc-welded seams & passive state strength & durability of steel material
Effective air circulation system within the chamber
Double Door: Inner full viewing glass door
Insulated Outer door and it has lock and key
Inner and outer doors are sealed with silicone sponge rubber gasket.
Control panel has an electrical switchgear front for easy service accessibility.
Equipment with heavy castor wheels for easy movement.
Electro polished Heavy duty solid stainless wire mesh type/perforated adjustable trays
Easy to clean
Additional Features
Scanner
GSM/Mobile alert system
Security alarm System
TECHNICAL SPECIFICATION
Temperature Range
10°C above ambient – 60°C
Accuracy
± 0.2°C
Uniformity
± 2.0°C
Control System
PLC or PID Based
Model
Material of Construction
Interior
Exterior
STD
S.S.304 Dull Finish
G.I Powder Coated
GMP
S.S.304 Dull Finish
S.S.304 Dull Finish
CGMP
S.S.316 Dull Finish
S.S.304 Dull Finish
Available chamber Sizes and Capacity
SKU #
Capacity (in ltrs.)
Dimensions (W X D X H)
MAX No. of Trays
Internal (mm) Width Depth Height
External (mm) Width Depth Height
KKGMPD90L
90
450 X 400 X 500
600 X 820 X 1050
3
KKGMPD227L
227
600 X 630 X 600
750 X 1065 X 1180
4
KKGMPD325L
325
600 X 630 X 900
750 X 1065 X 1480
6
KKGMPD400L
400
600 X 630 X 1060
750 X 1065 X 1640
7
KKGMPD500L
500
600 X 630 X 1350
750 X 1065 X 1905
8
KKGMPD600L
600
800 X 800 X 950
950 X 1265 X 1530
6
KKGMPD800L
800
800 X 800 X 1250
950 X 1265 X 1830
9
KKGMPD1000L
1000
800 X 800 X 1570
950 X 1265 X 2150
9
Note: B O D Incubator and Walk- in bod incubator are available on request.
BOD INCUBATOR- TECHNICAL SPECIFICATION
| | |
| --- | --- |
| Temperature Range | 5°C to 60°C |
| Accuracy | 1.0 °C |
| Uniformity | 2.0°C |
| Control System | PLC or PID Based |
Citation – Incubator
An incubator is a type of device which can be used to grow, develop, and maintain microbiological cultures or cell cultures. The laboratory incubator is being used by researchers and scientists to grow microbes at optimum temperature of the growth, hatching eggs while culturing viruses and developing vaccines for Viral infections.
Inside an incubator the optimal temperature is maintained. Moreover, the incubator also maintains CO2 and oxygen content of the atmosphere inside.
An incubator is necessary for many experimental works in cell biology and microbiology. Incubator is used to culture both bacterial and eukaryotic cells. In an incubator the environmental conditions can be regulated at levels optimal for the growth or reproduction.
Besides Bacteriological incubators. poultry incubators, infant incubators, BOD incubators are available. Naming of incubators is based on their usage.
The Bacteriological incubator is used to promote the growth of bacteria or other microorganisms. Warm air is circulated over racks or shelves containing the microbiological cultures or cell cultures. In medicine, such incubators are used to grow microorganisms-Bacteria, Yeast and Mold under study.
The Poultry incubator is used to keep the eggs fertilized by chickens warm until they are ready to hatch. In these types of incubators, the rooms are heated by electricity. Large electric fans circulate the air in the incubator to maintain consistent temperatures, and the eggs are turned automatically daily.
The other type is Infant Incubators; maintains the optimal environment for the premature babies or other infants, under medical supervision,not able to maintain a normal body temperature. This incubator is designed to provide a safe, regulated space for infants to live while their vital organs develop. The infant incubators are small, glass-walled boxes fitted with special devices that can control the concentration of oxygen inside it. It may have portholes fixed with long rubber gloves through which nurses can handle and take care for the infant.
Standard Incubator Design-
An incubator is made up of a chamber with a controlled temperature. Some incubators also regulate humidity, gas composition, or aeration within that chamber. The main purpose of an incubator is to create a stable, regulated environment favourable to research, study, and cultivation.
Krins lifesciences has a range of incubators of different capacity ,functionality and features focusing to offer specifically- Bacteriological Incubators and BOD Incubators normally used in laboratories, life sciences companies, pharmaceutical and healthcare industries.