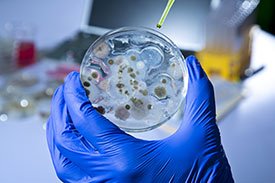 Our laboratory professionals and lab partners are highly experienced in conducting various routine and non-routine microbiological tests with reference to USP guidance chapter USP <61>, USP <62>, USP <2231>, and USP <2232>. These tests are a necessary requirements in having products released in the North American market, and countries worldwide. There are additional standards for food and cosmetic industries, including ASTM and AOAC.
Krins Life Sciences experts, lab partners and professionals are well-experienced in conducting various microbiological tests, while adhering to strict industry standards.
Our lab partners and professionals are experienced in tests including but not limited to
Total Microbial Count
Total Yeast and Mold Count
Preservative Efficacy
Sterility Testing
Endotoxin Tests
Particulate Count
Additionally, Krins offers service support for biotechnology tests including ELISA and allergen testing.