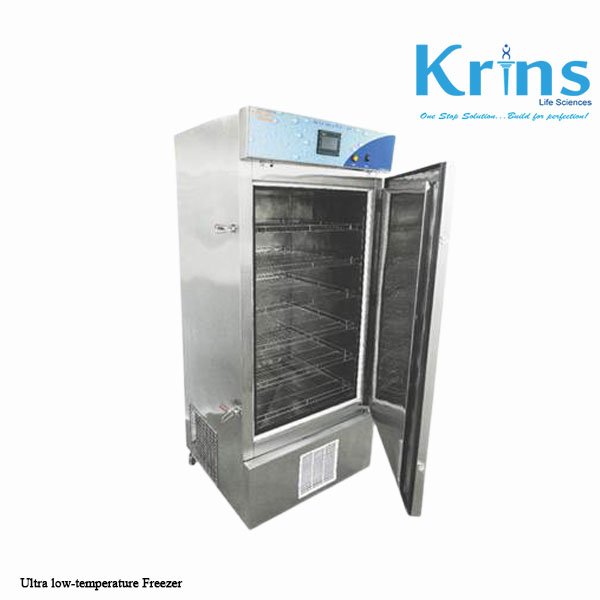 Product Overview – Ultra-low Temperature Freezer
Water and Vapour Tight inner working chamber
Stainless Steel Chamber- SS 316/SS304
Effective Air Circulation System
CFC free refrigeration
Hermetic Compressor- Danfoss or equivalent Compressor
Cascade compression system
Electro polished Wire Mesh Type adjustable Trays
Easy to clean and with wheel for easy and convenient
Use to store lyophilized microbial culture, heat labile biological samples, Chemical samples
Operational parameters according to USP guidelines
TECHNICAL SPECIFICATION
Temperature Range
-50°C to -80°C
Accuracy
3.0 °C
Uniformity
10 °C
Control System
PLC or PID Based
Specially designed to store Vaccine, lyophilized microbial culture, biological samples, heat labile chemicals
Electrical
PLC or PID Based
Additional Features and Technical Services
Software (21 CFR PART-11 Compliance)
Digital Display
Alarm system ( Audio and Display)
Warranty covered
ON-Site Equipment Qualification services
Technical Information
Krins lifesciences- Qualified Ultra-Low Temperature Freezer -80ºC/-86ºC-
COVID-19 Vaccine/Ultra-low temperature product  Storage  Solution
Ultra Low Freezer -80C/-86C
Ultra-low Temperature freezers are Freezers with temperatures ranging from -45°C(-49°F) to -86°C (-122°F). Such freezers are used in hospitals, pharmaceutical labs, Vaccine production and testing laboratories, Research institutes, healthcare facilities and blood banks. Ultra-low freezer is mostly used to store vaccines, blood, semen, bacterial and virus cultures, tissue cultures, lyophilized materials, heat labile materials. There are various sizes and styles of ultra-low freezers available according to the needs of the user such as countertop models, benchtop models, under counter or chest freezers, high quality upright freezers. Krins lifesciences always assist for selection of a freezer for user specific requirements. Consider the following aspect before selecting ultra-low freezer as user- Available space and size to accommodate freezer, its storage capacity user requires, reliability of supplier and warranty period covers with equipment, temperature uniformity and accuracy while in use, Energy efficiency and Certified for use as per local electrical standard.
There are different brands/manufacturers supplying the ultra-low freezer including Krins lifesciences.Krins lifesciences not only supply or sell Ultra-low freezer, but also offer guaranteed post sale services which includes on-site qualification of equipment on user site subject to user request. Krins lifesciences assure during on site equipment qualification that equipment will work as per manufacturers given specification and user requirement.
Due to movable and space saving features, the most commonly used version of ultra low freezer is Upright Freezer. The internal storage volume of ultra low -freezer ranges from 90 l to 2000 litres.
Upright Ultra low freezers are equipped with two to four shelves depending on the capacity of the ultra low freezer.
Ultra low freezer does have polyurethane insulation which keeps the inside environment ultra-cooler and environment contamination free, protecting the inner environment of the freezer from external environmental temperature and air flow. The high insulation coefficient of insulated material of an ultra-low freezer maintains and stabilizes the ultra-low temperature of the inside environment of the freezer during its operation. Main door of the freezer is also usually insulated with polyurethane which maintains cold against external temperature variables. Doors are usually equipped with a safety key.
Ultra- low freezer like normal refrigerator equipped with gasket seal surrounding the freezer door and border of the cabinet. Quadruple-step seals if with the freezer it offers greater temperature uniformity and accuracy inside the freezer. Most upright freezers have wheels or rotating castors with lock for wheels, such arrangement eases the movement of freezers inside the laboratory and protects the freezer from damage as well while relocation of the freezer inside the laboratory.
Ultra-low freezers usually equipped with PLC controllers. PLC controllers display the parameters and allow the user to control various parameters of the freezer to maintain temperature inside the freezer. Most freezers nowadays equipped with in-built Battery backup or in-built UPS allows to display temperature on the control panel even after power outages.
Ultra-low freezer has two different operating mechanism where either it uses single high-power hermetically sealed compressors or two cascade compressors Cascade compression mechanisms are very unique operating mechanisms where refrigeration circuits and compressors connect to work in synergy to reach and maintain ultra-low temperature.