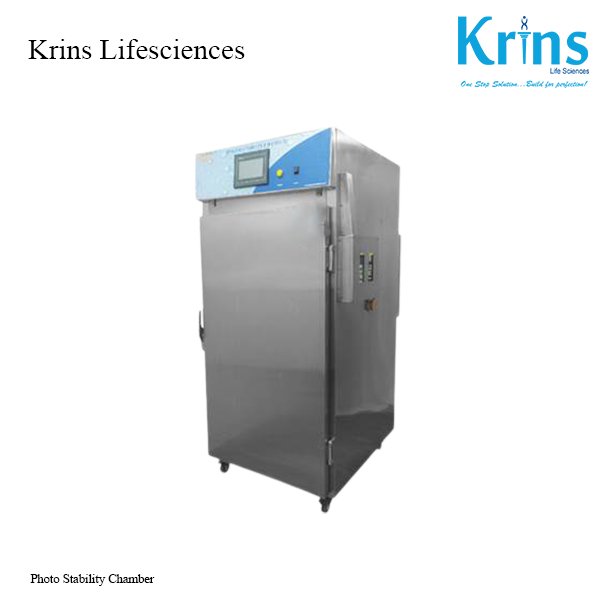 Product Overview – Stability Chamber
Constructed and fabricated on fully automatic CNC machines. Chamber Interior is fabricated of stainless steel with dull/mirror finish & exterior is of stainless steel for GMP Model/ G.I. Powder coated for standard Model.
The inner working chamber is water & vapour tight high-grade stainless steel. All seams are arc-welded & passivity for strength & durability.
Illuminated Interior with full-view glass door.
Chambers are provided with an effective air circulation system, heating & cooling systems and humidity generator system.
Double Door: Inner full viewing glass door and outer door insulated with lock and key arrangement. Inner & outer doors are sealed by silicone sponge rubber gasket.
Control panel with electrical switchgear and refrigeration system mounted on top for easy service accessibility.
Equipment mounted on heavy castor wheels for easy movement.
Heavy-duty solid stainless steel duly electro polished wire mesh/perforated type trays are provided which are easy to clean, time & effort saving, also adjustable for convenience.
TECHNICAL SPECIFICATION
Temperature Range
20 ℃ to 60 ℃
Humidity Range
40%RH to 95%RH
Accuracy
+0.2 ℃ & +2.0% RH
Uniformity
+2.0 ℃ & +3.0% RH
Test Suitable for
25 ℃ & 60% RH, 30 ℃ & 65% RH 40 ℃ & 75% RH, 30 ℃ & 75% RH
Specially designed chambers for Low Humidity conditions such as 25 ℃ 40% RH, 40 ℃ 25% RH, 30 ℃ 35% RH
Control System
PLC or PID Based
Additional information
Software (21 CFR PART-11 Compliance)
Stand by Cooling System
Stand by Humidity System
Scanner (4 Temp.+ 4 RH for Online Monitoring Purpose)
Mobile Alert System
Security Alarm System
Extra Trays
Citations-Stability Chamber
Stability chambers are used for the storage of pharmaceutical and biotechnology products. In the pharmaceutical industry, specifically for storage products at controlled temperature and humidity. Usually medicine and drugs are stored as per ICH guidelines in stability chambers to evaluate shelf-life of products . Therefore, evaluating quality of products during claimed shelf-life is highly important,such evaluation assures that products are maintaining Safety, identity/integrity, Strength, Purity and Quality until its claimed expiry date and hence protect patients and consumers using such products. A Stability Chamber provides a stable, temperature-controlled environment for testing. A Stability Testing Chamber is used to store products and evaluate shelf-life of products at controlled temperature and humidity according to Climate Zones testing suggested by ICH guidelines. Shelf-life assessment of medicinal products is executed by "Performing chemical, biological, and microbiological tests of products as per relevant testing standards. Products are stored within the chamber until specific time period such as 3,6,12,24 months or upto claimed expiry date of products to see if factors such as moisture, light and temperature influence products at the same time as they are being stored. These Chambers provide a precisely controlled temperature to evaluate long-term, intermediate, or accelerated degradation of a product over time. By testing the factors that lead to changes in the quality of the product, companies can identify storage duration under certain conditions and the shelf-life of the product. With close monitoring under testing chambers, pharmaceutical industries can also evaluate how the quality of a product is impacted by environmental changes.
Stability chambers are also suitable for biomedical storage, product stability research, drug research, and overall stability testing. Stability chambers are used during the research and development stage to identify Product quality issues before it goes into full-scale production.
Stability chambers work on the principle to maintain the relative humidity (RH) and temperature of the chamber with the help of thermostats and water reserved in the chamber. Stability chambers are also known as environmental chambers. Environmental chambers are designed to create simulations of the various environmental conditions the medicinal products might be exposed to different climatic conditions.Chambers come in many sizes.
Some chambers have basic features while others have advanced features such as digital display, PLC controlled monitor. Stability chambers are designed to simulate temperature, humidity, light and thermal shock effect during storage. Several high-temperature stability chambers can have storage temperatures upto 200 degrees Celsius and such stability chamber is used to evaluate effect of temperature on some thermo-resistant product quality.
New chambers must be tested for performance and must be regularly maintained during their lifetime. Maintaining a controlled environment and storage of products in the stability chamber is a very important factor before executing testing of the product ; hence it is important as per Good Manufacturing practices of Pharmaceutical laboratories that the chamber is Validated/Calibrated and qualified before use .
Before purchasing a stability chamber, one should consider the requirements and the available space  in their facilities.
The Stability chamber meets the guidelines given in the international conference on Harmonization (ICH) for product storage and drug substance. The units are ideal for the testing of packaged product shelf-life, stability studies and insect and other biological research work.
Krins Lifesciences offers free consultation and suggests clients the appropriate size, specifications and model according to client's requirements for Stability chambers. Call us at 289-201-4175/289-642-2696 and contact us through email or submit your enquiry to Contact form with your contact information and requirements.